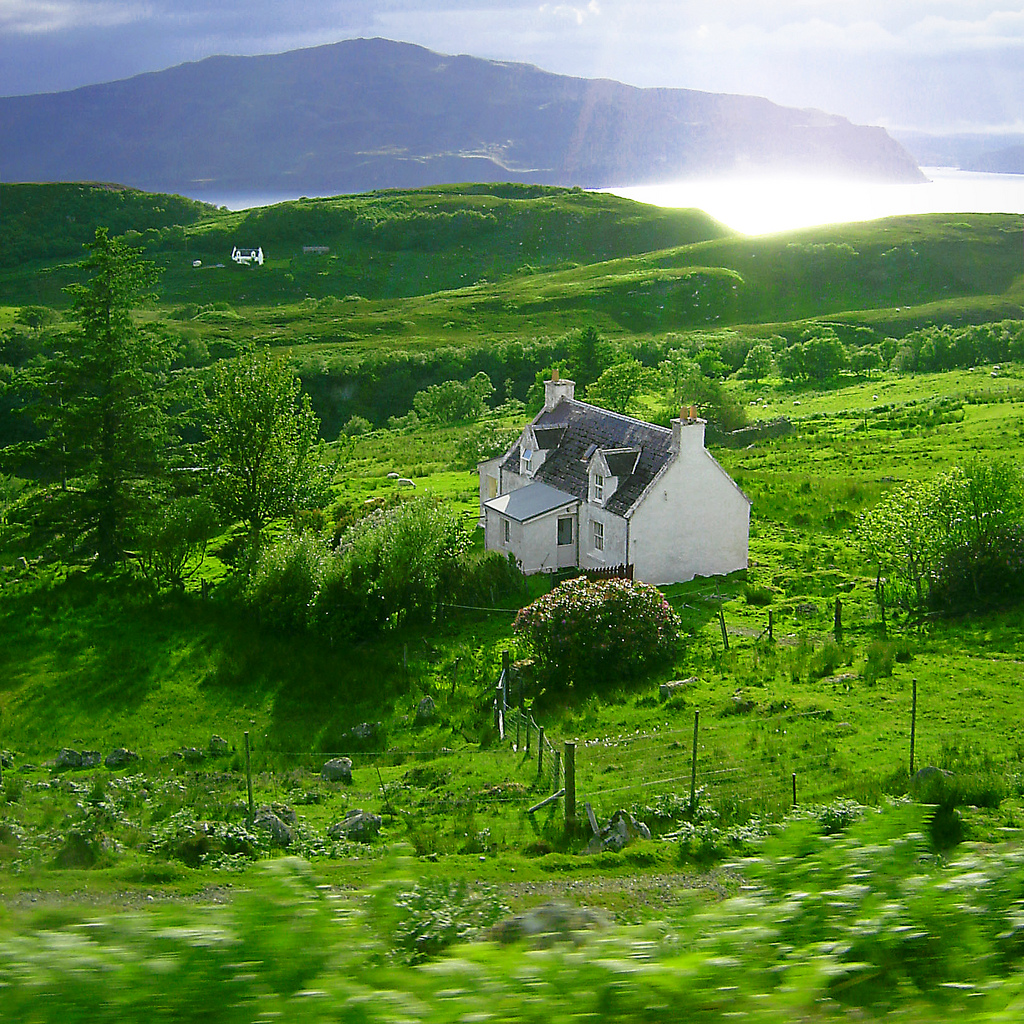 Photo by Rankeelaw
Enjoying the Rugged and Tranquil Beauty of Raasay Island, Scotland
There are many things about Raasay that make it a dreamy island.
As one of the Inner Hebridean Islands of Scotland, Raasay is marked by the flat-topped peak called Dun Caan. This geological structure is also the highest point on the island, standing at almost 1500 feet. Ancient rock formations like Dun Caan are one of the main reasons the island has become a popular tourist destination in the region.
Map is interactive. Use the + and – to zoom in and out and drag your mouse (on a desktop) or finger tip (on a phone or tablet) to look around.
---
Raasay is relatively small, with a length of 14 miles and a width of 5 miles. It stands in between the Isle of Skye and the mainland. To the east of the island lie the deepest channels around Britain. These waters are called the Inner Sound of Raasay, and is also the main access point to the island. The Caledonian MacBrayne car ferry usually passes here to reach Isle of Skye.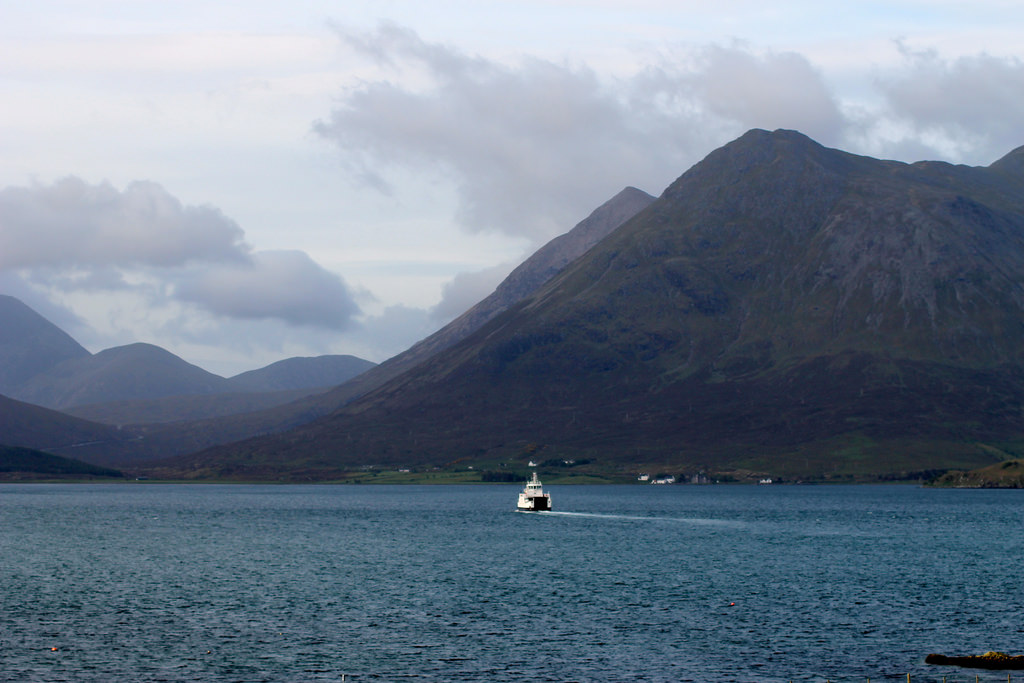 Raasay Ferry
Photo by David Muir
---
---
The main village on Raasay is called Inverarish. Aside from its very distinct name, the village also boasts a long and fascinating history. It was the site of a former prisoner war camp for the Germans during World War I. Inverarish is a small quaint village equipped with a local store, post office and primary school.
One of the impressive structures that will capture your interest while in Raasay is the ruins of the Brochel Castle. This once formidable building originally had 3 stories and 4 towers.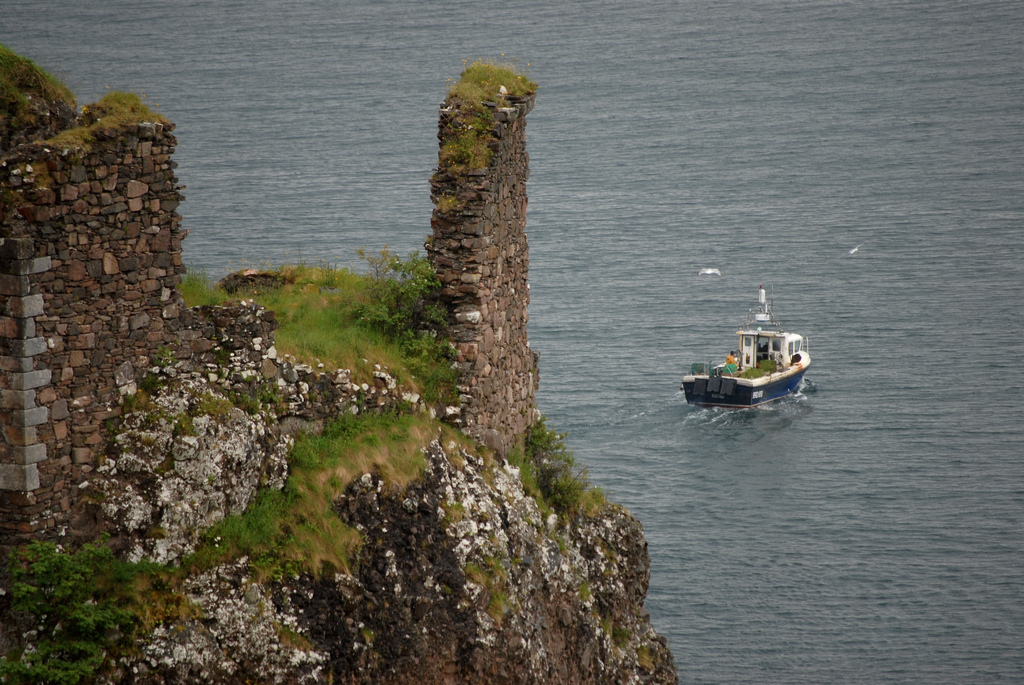 The Ruins of the Brochel Castle
Photo by Tim Dobson
Another iconic historical site you should not miss checking out is Raasay House, a renovated historic clan mansion house.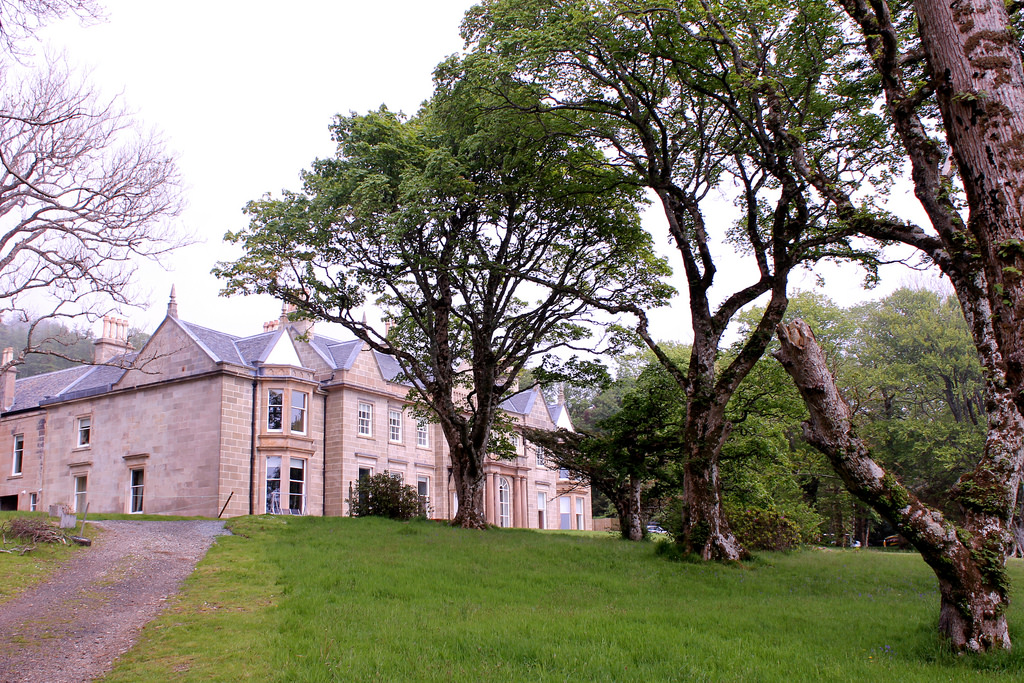 Raasay House
Photo by David Muir
All throughout the island, you will notice the presence of Brochs Pictish stone dwellings, which are believed to have been built more than 200 years ago. While you are marveling at the exquisite architecture of these structures, don't forget to also drop by the island's lovely 13th century church.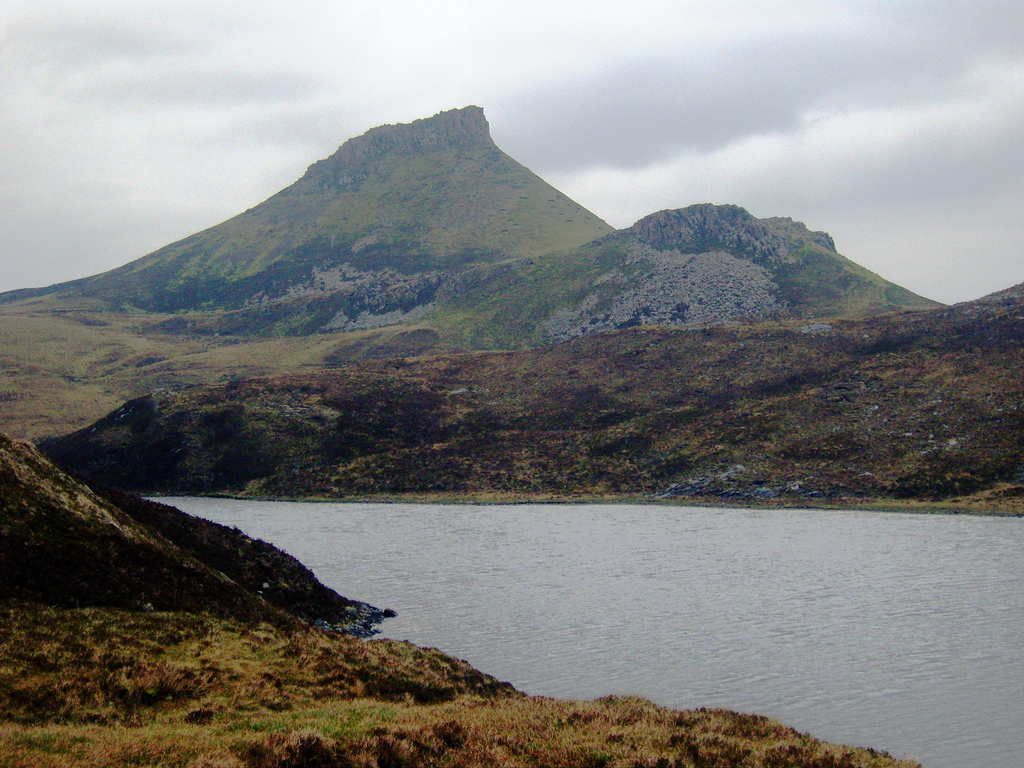 Dùn Caan
Photo by Donald Macauley
The Isle of Raasay is a hiking mecca offering several kinds of walking paths for tourists; from forest hikes, coastal paths, old railway lines to high moorland and woodland trails trails. Because of this trail variations, this Scottish Island makes an ideal hiking destination as it caters to different levels of hikers. If you plan to explore the island just for a day; consider doing the famous hiking path that goes from the Suisnish pier and leads to Dun Caan. A climb to the top of this peak rewards you with gorgeous views of the Outer Hebrides and the Cuillin mountain range that rise above Skye.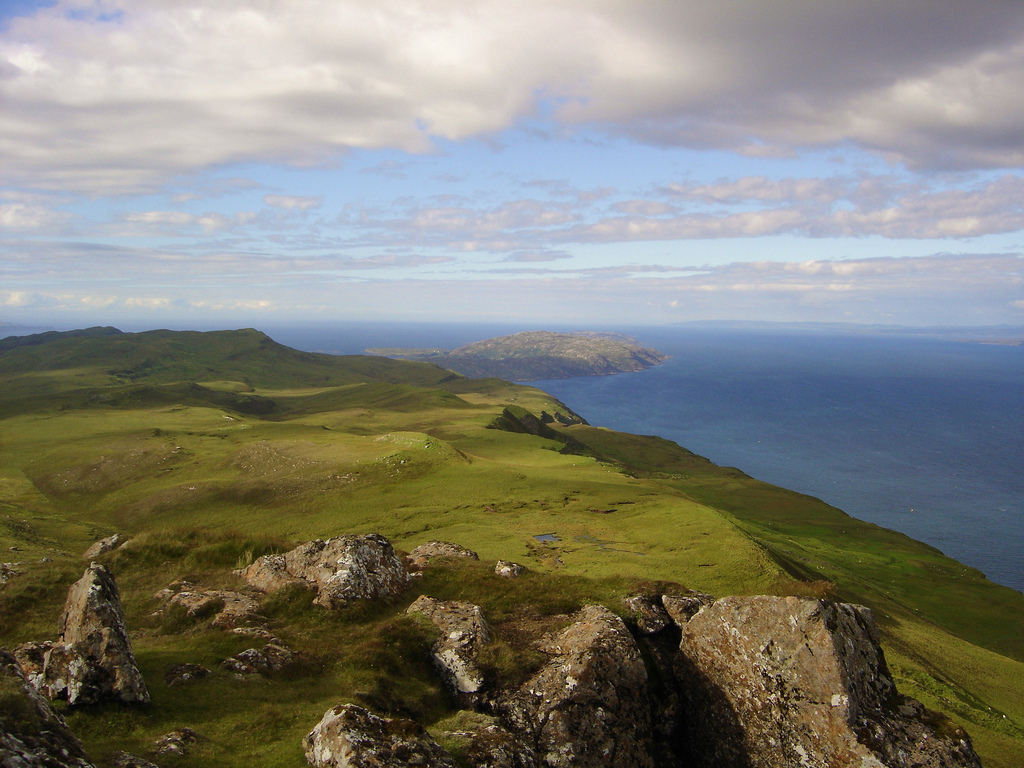 Screapadal and a bit of Applecross, from the top of Dùn Caan
Photo by plattbridger
---
---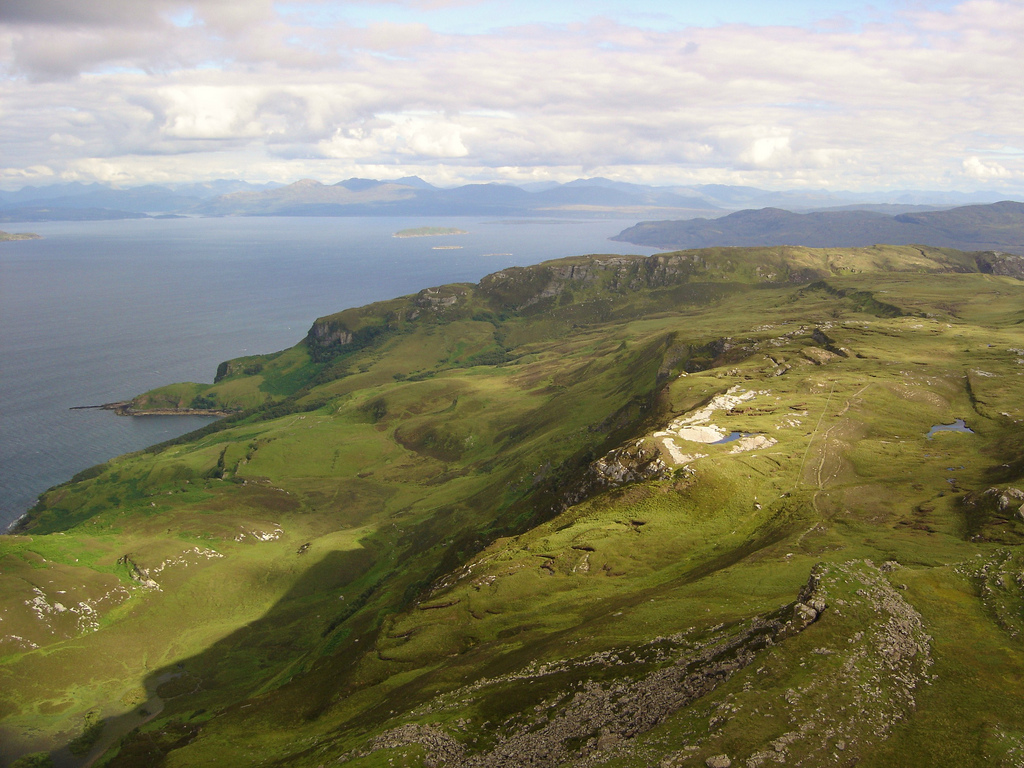 Looking down towards Hallaig with Beinn Na' Leac behind, from the top of Dùn Caan. Skye to the right and the mainland centre left.
Photo by plattbridger
Traditional Scottish Soup Recipes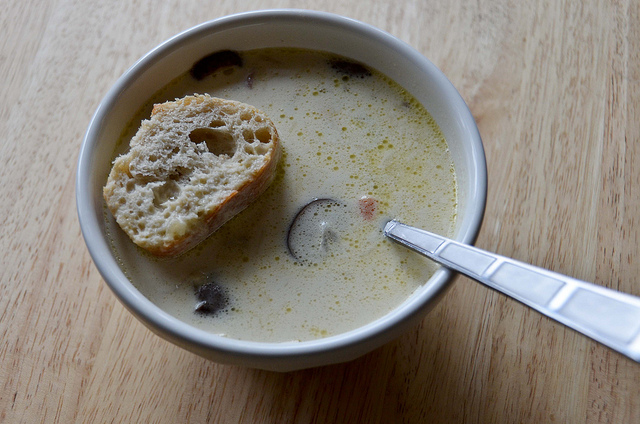 Photo by Iris
The areas around Raasay Island are some of the wettest and windiest places in Europe.
But, as an old Scottish saying goes, "There's no such thing as bad weather, only the wrong clothes!"
The dreary weather is why the Scots wear warm, water-proof clothing and boots when they go outside (and why you should pack some, too!) and why they have a long tradition of warm, hearty soups to enjoy when they come home. Here are a couple of traditional Scottish Soup Recipes to warm you up on a cold day in your hometown.
Potato-Leek-Mushroom Soup
Ingredients
2 medium Leeks, 1/4-inch slices
3 Potatoes, 1/4-inch diced
5 cups Water or Stock
1 cup Onion chopped
3 cloves Garlic, minced
2 tablespoons Butter or Olive Oil
Salt and freshly ground Black Pepper, to taste
1 cup Milk or 1/2 cup Cream
4 tablespoons fresh Dill, chopped, to serve
Croutons, to serve
Directions
Heat butter in large stock pot over low heat.
Cook onion and garlic until tender.
Add potato and leeks. Cook for 10 minutes, uncovered, stirring occasionally.
Add stock, dill, salt and pepper and bring to boil.
Reduce to simmer for 15 minutes or until potato is tender.
If you have a hand blender, use it in the pot to process the soup. But be sure to leave it a bit chunky. If you don't have a hand blender, you can do this in a regular blender in batches, Be careful spooning the hot soup into the blender.
After processing, add cream or milk and adjust salt and pepper to taste.
Serve with croutons and fresh dill.
---
Bonfire Warmer Soup
"This is most enjoyable on a damp, chilly, miserable weather night, when you have a roaring fire in your fireplace."
Ingredients
1 Carrot, sliced
1 Onion, chopped
4 slices Bacon, chopped
1/2 ounce Butter
1 teaspoon Curry Powder
1 ounce plain Flour
15 fluid ounces Milk
5 fluid ounces Chicken Stock or Vegetable Stock
Directions
Gently sauté the carrot, onion and bacon in the butter for 10 minutes until softened.
Stir in the curry powder and flour. Cook for 2 minutes.
Gradually add the milk and stock stirring continuously until the soup thickens, boils and is smooth.
Serve with crusty rolls.

Another alternative to enjoying the island's lush scenery is to do a cycling tour. If you can't get enough of the outdoors, the Raasay Outdoor Centre often organizes a wide range of activities and events for tourists who want to stay active. There are also plenty of opportunities for wildlife viewing and bird watching while doing the various hikes.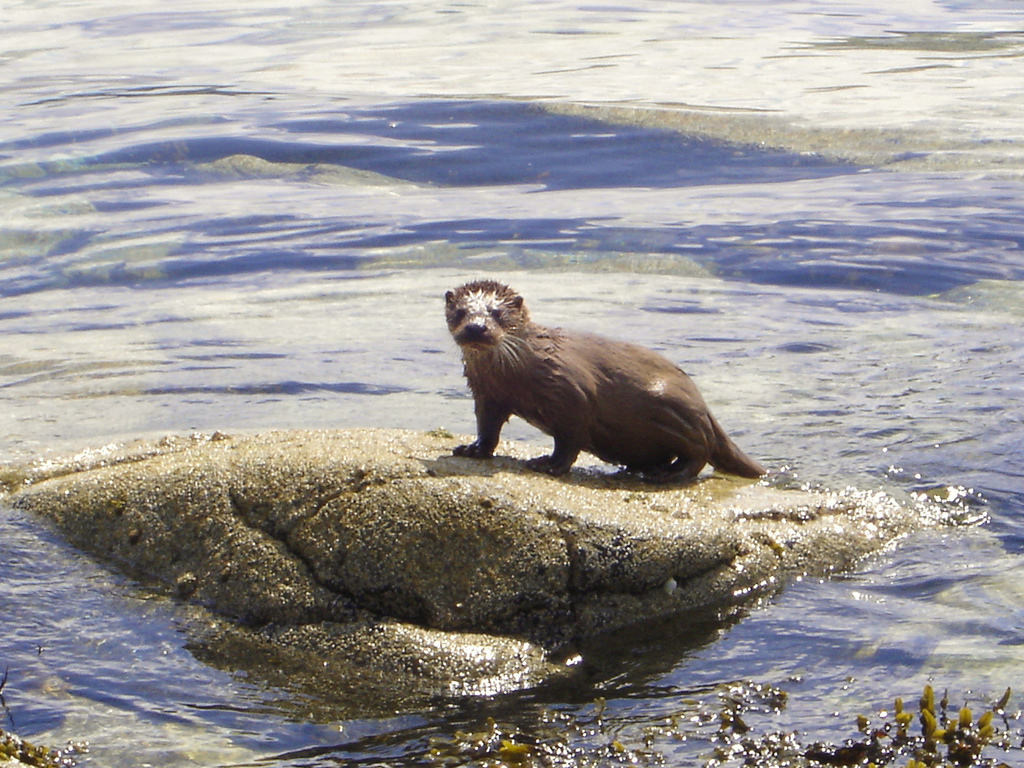 Photo by plattbridger
Some of the commonly sighted birds include grouse, golden eagles, buzzard and sea-eagles. The angling enthusiast in you will be happy to know that it's possible to fish for some fresh water trout at one of the lochs (lakes). You just need to make sure that you get the necessary permit.
Ultimately, a visit to Raasay is all about communing with nature. The island offers that rare peace and tranquility that urban dwellers long for.
---
You may also like these pages about Scotland and other destinations:
Coming Soon
Coming Soon
Coming Soon
---
The Best of Traditional Scottish Cooking
More Than 60 Classic Step-By-Step Recipes From The Varied Regions Of Scotland, Illustrated With Over 250 Photographs
More Than 60 Classic Step-By-Step Recipes From The Varied Regions Of Scotland, Illustrated With Over 250 Photographs
Click HERE Now to Get The Best Of Traditional Scottish Cooking
---
Lonely Planet Scotland Travel Guide
Lonely Planet is The World's Leading Travel Guide Publisher
Lonely Planet Scotland is your passport to the most relevant, up-to-date advice on what to see and skip, and what hidden discoveries await you.
Head over the sea to Skye for stunning scenery, seek out the history round every corner in Edinburgh and stroll the bonnie banks of Loch Lomond; all with your trusted travel companion. Get to the heart of Scotland and begin your journey now!
Inside Lonely Planet's Scotland Travel Guide:
Full-colour maps and images throughout
Highlights and itineraries help you tailor your trip to your personal needs and interests
Insider tips to save time and money and get around like a local, avoiding crowds and trouble spots
Essential info at your fingertips – hours of operation, phone numbers, websites, transit tips, prices
Honest reviews for all budgets – eating, sleeping, sight-seeing, going out, shopping, hidden gems that most guidebooks miss
Cultural insights give you a richer, more rewarding travel experience – castles, lochs & mountains, islands, literature, food & drink, museums, culture, wildlife, the land
Free, convenient pull-out Edinburgh map (included in print version), plus over 50 colour maps
Covers Edinburgh, Glasgow, Highlands & Islands, Inverness & the Central Highlands, Orkney & Shetland and more
The Perfect Choice: Lonely Planet Scotland, our most comprehensive guide to Scotland, is perfect for both exploring top sights and taking roads less traveled.
Click HERE Now to Get the Lonely Planet Scotland Travel Guide
---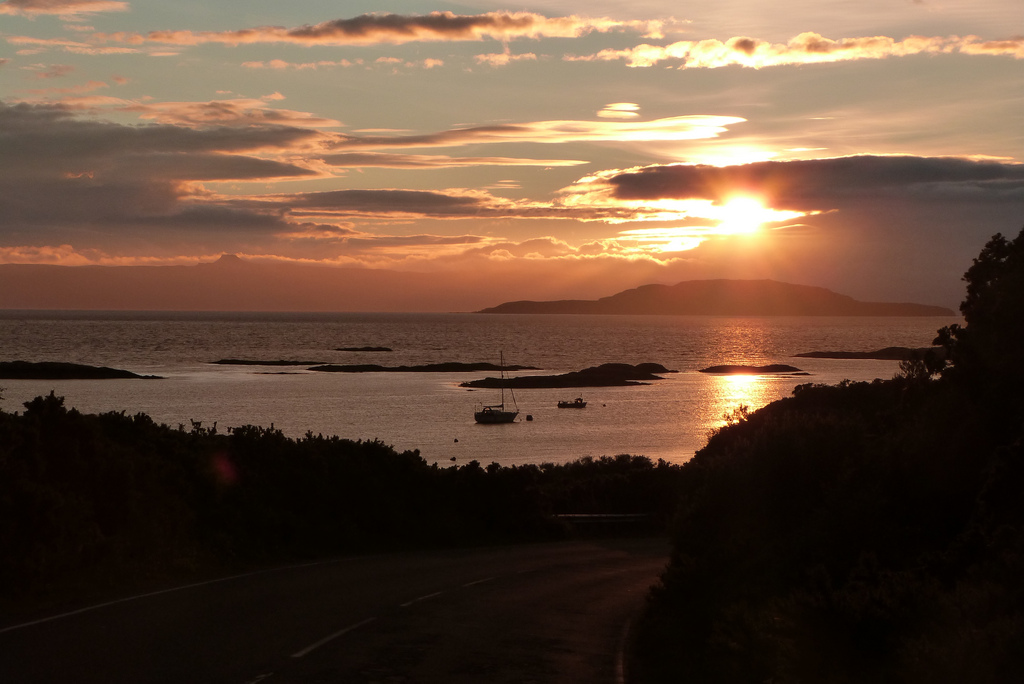 "This photo was taken from the road between Kyle of Lochalsh and Badicaul. In the foreground are the wee Black Islands, living up to their name, whilst the middle distance is dominated by the merged silhouette of the two Crowlins. Back beyond that, and almost merging with the clouds, is the island of Raasay, whose highest point, the very distinctive volcanic plug of Dun Caan, is clearly discernible on the left against a pink streak."
Photo by Mason Taylor/Simon Taylor
---
Additional Information Courtesy of Wikipedia – Recipes courtesy of Recipes Wikia